Ukraine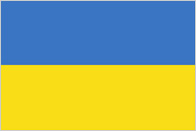 Ukraine, the second largest state in Europe and one of the most educated nations in the world, is waiting to share its colourful folk art, exquisite crafts, endless street and village festivals, beautiful songs and unique traditions with you.
Ukrainian hospitality reigns supreme. Guests are welcomed like family into Ukrainians' homes and treated with an endless supply of food, drink, and conversation. Whether you are wandering the city of Kiev, admiring the golden onion shaped domes shimmering everywhere, or exploring the uniquely beautiful countryside, you'll be greeted by the locals with welcoming smiles, just like your ASSE host family will welcome you into their home.
No matter what your interests are, you are sure to remain fascinated by Ukraine, one of the oldest and most exciting countries to discover, filled with medieval castles, stone fortress towns and beautiful beaches along the Black Sea. Ukraine, a beautiful mix of old and new, was the creator of the world's first constitution, the builder of the world's biggest plane, and has the deepest metro station in the world.
As an ASSE Exchange Student to Ukraine, take a walk through history and discover Ukraine's past with your contemporary eyes.