Thailand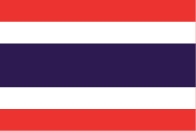 | Programs | Departure | Fees | |
| --- | --- | --- | --- |
| School Year | May/June 2025 | $6,900 | |
| Summer Immersion | July 2024 | $9,800 | |
A gentle country with a spiritual calm; where every man must spend a year of his life as a Buddhist monk contemplating the meaning of life. In contrast, the glittering gold temples, colourful floating river markets and a fragrant tropical atmosphere fill Bangkok, Thailand's capital city, with energy and activity.
As an ASSE exchange student, you can live life as the Thais do, learning the language and all about the fascinating Buddhist culture; experiencing the warm hospitality for which Thais are known. The royal family still earns enormous respect, though people today balance religion, royalty, a modern political system and a rapidly growing economy.
Live an exchange year in this country of peaceful dignity and modern progress, and you will have a special understanding of the complex country of Thailand.