Finland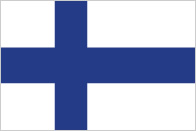 | Programs | Departure | Fees | |
| --- | --- | --- | --- |
| School Year and Semester | August / September 2024 | $12,950 | |
| Summer Immersion | July 2024 | $8,900 | |
Fresh air, the Lapland wilderness, one of the best places on earth to spot the Northern lights, the hiking, the wildlife, the thousands of clear lakes: Finland is a natural wonderland within an impressively technological modern nation. It's much more than just beautiful sceneries, white snow, Santa Claus and reindeer.
Finland is full of interesting contrasts, such as the four distinct seasons, the midnight sun, the long winter nights and the different cultural heritages of the Eastern and Western parts of the country, most notable in the exciting vibrant city of Helsinki, recently named World Design Capital.
Imagine relaxing with your host family on the jetty of their lakeside cottage on a long summer night. Join friends on a stunning sailing experience: island hopping in the Turku Archipelago, the most extensive archipelago in Europe with over 20,000 islands. Play pesäpallo, a unique form of baseball so popular in Finland in the summer, or ice-hockey in the winter if you are not out skiing. On a snowy day stay warm in the sauna with your host family or friends.
As an ASSE Exchange Student to this spectacular corner of the world, you will experience a top rated school system while you live in a modern welfare state with a high standard of living and advanced technology. You'll embrace the country's pristine beauty and come to love the loyal, warm and welcoming people of Finland.