Germany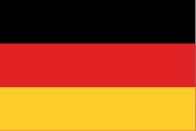 | Programs | Departure | Fees | |
| --- | --- | --- | --- |
| School Year and Semester | August / September 2024 | $11,950 | |
| Summer Immersion | July 2024 | $8,900 | |
| Summer Language Camp | July 2024 | $8,900 | |
Experience life in Germany, with charming, historic towns and fascinating cities such as Berlin, Munich and Cologne. An advanced and welcoming country with a high standard of living, Germany offers opera houses, theatres, lush wooded areas and lovely blue lakes. Strong traditions, folk music, architectural treasures, modernism, and advanced technology all coexist in harmony.
Your host family, eager to share their rich cultural history with you, will probably live in a small town or in the countryside. Germans like to spend time together, debating and eating well. Discussions are direct, and everyone is encouraged to speak their opinion. Although family is important for the Germans, young people are independent early on, and you will be expected to take care of your own matters.
Discover why the German school system is considered among the best in the world by interactive participation in classes. In your free time join a local soccer club, explore local festivals and holiday markets or visit with your friends at their home, just like the German teenagers do.
By calling Germany your home for a year you'll live in the middle of Europe and learn a language which will open many doors for you.