France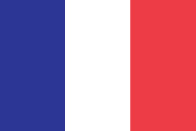 | Programs | Departure | Fees | |
| --- | --- | --- | --- |
| Summer Immersion | July 2024 | $10,200 | |
| School Year or Semester | August / September 2024 | $11,950 | |
| High School Semester | January 2024 | $11,950 | |
| Summer Language Camp | July 2024 | $8,350 | |
In France, you'll discover that discussion is a national pastime, where gathering with friends to talk over coffee in a café is an art form. France is especially proud of its traditions, language and culture.
You'll soon appreciate the importance placed on fine meals enjoyed at a leisurely pace, good conversation, fine art, music, cinema and fashion. At the same time, you'll be able to ride the TGV, one of the fastest trains in the world, and see how new technology is shaping France today.
You'll also realize that there is so much more to France than just the splendid city of Paris. Each region of France feels and looks different, has its own style of architecture, its own characteristic food and often its own dialect Most ASSE host families live in such smaller towns or villages.
The French schools are among the best in the world but although they place heavy emphasis on academics, you will still find some sports and drama opportunities at your "lycee". Sooner than you know it you will master the language and the culture joking with your host family and newfound friends at school.