Italy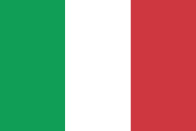 | Programs | Departure | Fees | |
| --- | --- | --- | --- |
| School Year or Semester | August / September 2024 | $11,950 | |
| High School Semester | January 2025 | $11,950 | |
| Summer Immersion | July 2024 | $8,900 | |
Birthplace to the Roman Empire, home of the Vatican and many other famous and historic landmarks, you'll experience history and the latest in fashion design and modern technology rolled into one when you spend an exchange year or semester in Italy.
Home to the largest number of UNESCO World Heritage sites, Italy is famous for its architectural accomplishments with many of the Roman ruins still intact today. Wherever you go, you'll find ancient bridges and churches, famous paintings, frescos, sculptures, hidden art treasures and rolling hills crowned with medieval towns and castles.The Coliseum, Pompeii, the Leaning Tower of Pisa, and Canal Grande in Venice are just some of the world famous places you might have a chance to visit.
Although the family dynamics vary from one part of the country to the other you will find that strong traditional ties bind families together – you'll be welcomed into your Italian family with open arms. Italians place great importance on friendship, they are warm, happy, easygoing and love to socialize with family and friends whether at home around the dinner table or strolling in the local piazza.
Learn all about life in this incredible country while you savour your favorite foods, fresh cheese, authentic Neapolitan pizza, pasta, gelato, etc. and embrace the passionate way the Italians speak.